Before you panic and start thinking that all the world has gone to pot, let me remind you that if indeed your husband has moved out of your home and landed somewhere else, sporting a new girlfriend, the worst of your problems may already be over.
Think of it this way.  If your husband, who you are still married to, has so little respect, regard, and consideration for you and the marriage commitment you both vowed to uphold, then just possibly you should be humming with delight.
Now I know it is unlikely you feel this way.
Most likely, you are filled with rage at your husband's deciding to run off with this new girlfriend.  And depending on all the facts and circumstances of your situation, the guy your are married may be very deserving of your contempt.
I mean really, what kind of guy makes a commitment to love, cherish, and support you, then decides for whatever reason that he is going to pursue another woman and pour his desires into this newfound girlfriend.
Mind you, I didn't say love.  Desire should not be confused with love or mature emotional attachment.
What Is Going On With Your Husband?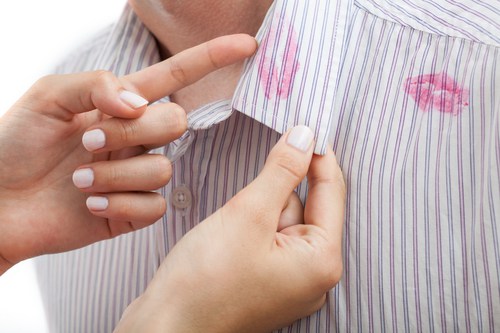 More often than not, these kinds of situations where the husband (maybe soon to be your ex) hooks up with a new girlfriend is really falling into the all too typical rebound trap.
So let's say you are unsure how you really feel about your husband now.  He has profoundly disappointed you by quitting or at least temporarily putting a halt to the marriage.
This is not how it is supposed to work.  Marriage is not just something you cast out the window when it becomes too entangled with problems.  A worthy husband simply does not move out of the house at a whim and go cruising around with his girlfriend.
So what is with this behavior of you supposed partner in marriage?
Maybe he is behaving like an immature, teenage boy out of spite or insecurity. Maybe your guy is under a spell of his own making that he has found the one girl the will satisfy is every wish.  Perhaps he thinks he is "in love".
If it is any of those reasons (or others), you should give careful consideration of breaking off all further contact and communication with him.
I write about this extensively in this post about how to save your marriage if you husband is caught up in an affair.
https://marriagerecovery.com/how-to-save-your-marriage-during-an-affair/
Now let's say that you are still madly in love with this man who has betrayed you. Or let's say you just threw him out of the house for whatever may have transpired in the past and he eventually found himself a girlfriend.  Maybe they even moved in together.
In my view, however things unfolded to lead to this event of your husband taking up with a new girlfriend (or an old flame), you will benefit immensely by creating some space.
The No Contact Rule allows you to accomplish multiple things while chaos is unfolding in the aftermath of your husband's betrayal.
And as you probably have already discovered, given you husband's shenanigans, life is looking pretty upside down these days.  Your heart is probably bleeding its own tears.  You may feel desperately frustrated by your husband's action to move out and latch on to this new woman.
None of these feelings are going to be easy to navigate if you are still actively trying to contact or communicate with your husband.
I realize, that sometimes completely shutting down communications and person to person interactions can be very difficult given certain situations.  Like for example, if you have children, you will need to modify the No Contact Rule.
Maybe there are some pressing financial matters that need to be discussed.  If these kind of things are at play, then minimize contact and keep everything business like.  Avoid any emotional discussions about the past or future as such dialogue will likely lead to friction and regret.
Does Your Husband Even Deserve You?
If you ask me, if your husband has taken up with his new "honey", then maybe he is not deserving of you.  Maybe your guy is just a real selfish jerk.  Perhaps he has cruelly decided to flaunt his philandering ways just to get some cheap shots at you.
Unfortunately, there are some personality types out there that get some perverse joy from making another's person's life difficult.  Let's hope your husband does not exhibit that kind of ugly, revenge seeking behavior.
Now, I know every breakup type of situation involving a husband and wife has its own unique history and circumstances. So perhaps the two of you decided to embark on a trial separation.
I have seen cases where couples, against their better judgement, decided to explore an "open" marriage that allows them to enter into new romances and relationships with the opposite sex.
Maybe I am just a prude, but I sure hope that is not what is happening in your case.
Much more often than not, these notions of exploring an open marriage both sexually or spiritually (or however one may describe it) is fraught with a host of future problems and misunderstandings.
Sometime we can think to ourselves that certain things might just work out if we just venture out there and try it out.
So maybe my words of condemnation for your husband's actions are a bit too strong.  Maybe the two of you are separated and agreed to date others.  And now that you have discovered he has found a new girlfriend, you are feeling confused. Your heart is melting.  You are thinking to yourself, "I never though he would actually do it?"
You see, guys can be stupid like that.  This includes husbands.  You can put out a trial balloon expecting that he would never bite (just to test him) and before you realize it, he is off and running.
Then again, if that is how your husband or boyfriend behaves when given a chance to sow his oats, you have learned something very important about your man's character.
So just maybe in this scenario, your man is not "technically" cheating on you or violating what the two of your agreed to do when you first parted or separated.
Maybe you didn't even call it a separation.  Perhaps you and your husband agreed to give each other some room and just cool it for a while and try to work out the problems later.
If that is the case and in this environment your husband decides to pack it up and move in with another woman or start some kind of semi serious relationship with this other girl, then I can only emphasis that the time for implementing No Contact cannot begin soon enough.
Do Husbands Often Move Out to Be With a New Girlfriend?
Not really.  It is an aberration.  Something is wrong either with the relationship or with your husband's way of dealing with commitment and attachment.
In my years in advising women in the relationship niche, I have seen all types of couple situations and just about every kind of  bizarre and unexpected relationship outcomes.   I have seen women heart-broken and husband and boyfriends say and do some of the most terrible things.
Ok, so let's just take a look at what may be happening here.
On the face of it, despite what your husband may have told you or wants you to think, he is with this other girl.  It does not mean that they are going to be enshrined in history at the greatest of all couples.  Nor does it necessarily mean he loves you less or cares little about your needs.
Don't forget, there is a whole history that existed between you and your husband long before this girlfriend came into the picture.
That bond or connection of memories and experiences and routines and habits just don't simply go wasting away all of sudden.  And if that relationship history between you and your husband has been pretty good, then this bodes well for you if you come to feel that you might want him back.
What we think we want and what we end up actually wanting is not necessarily the same things.
Your Husband Can Conjure Up and Act Upon Some Really Stupid Notions
Some guys are just impulsive, particularly if their sexual appetite is in the mix.
Remember, what your husband is intending to accomplish could be an act of stupidity or foolishness.
What it all means is not necessarily going to be clear to you (or even your husband and his girlfriend).  Sometimes people have to try things out to draw closer to what they think they really want.
Sometimes the very act of foolishness plays out on its own.  I have seen plenty of cases where husbands or boyfriends come crawling back.
How Should You Think About All of This?
When you begin your No Contact period, you shouldn't be thinking about all these things.  You shouldn't be trying to parse through what you think you really want or what you think your husband is doing with this girlfriend of his.
In the aftermath of your man running off with another woman, don't be surprised if you feel like you are "losing it".
Trust me.  Everyone feels like they are drawing in on some form of lover's insanity.  It may even feel like you have awakened, only to discover that you have entered some strange, bizarre universe.
It is far too early to try to reason through things and make firm decisions about your relationship past or relationships future.
The way I would characterize it is that you are in a "recovery stage" of taking care of your needs.
Your healing should be priority one.  It will be nearly impossible to process life if you are still interacting with your renegade husband.
Just how do you accomplish this?
I wrote a post about the advantages of how No Contact can benefit you on the personal side.  Take a look:
https://marriagerecovery.com/can-you-save-your-marriage-with-the-no-contact-rule/
Sure, if this craziness from your husband just happened, you may not want to rush right into a No Contact period were you are deliberately shutting him out of your life, choosing not to communicate with him in any way.
You may need some days to get your bearings.  It is possible that you are reacting to a false claim.  If there is any doubt about your husband's assertion that he has a girlfriend,  it should be revealed soon.  While it is not common, I have seen some guys level wild taunts and claims just to create some chaos.
So the first order of business is not to fall into any false traps your husband may have set.  He may be trying to jerk you around.  I have even seen guys use tactics such as getting a friend to "drop" a false rumor that is meant to arouse your jealousy.
Admittedly, this happens less with married couples, than some of the younger crowd out there.  Though the idea that "anything goes" isn't always far off the mark when it involves the heightened passions of love and anger.
But married couples are supposed to be mature, right?
Now, on the other hand, if your man is really wanting to part ways and has decided that come hell or high water, he is going to do what he wants and live the way he wants; then don't be shocked.
Some men need to work things out.  No matter how absurd and irrational it may appear to outsiders.
Don't Chase After Wild Hope
No matter how tempting it might be, don't think that you can talk your husband right back into the marriage.
It won't be talk or dialogue that will make an impression on him.  Rather, it will be the lessons learned when he realizes that he may have fallen for the "grass is greener" syndrome.
I am not saying that the two of you can't eventually recover from this setback.  I am just saying that any interference with what he imagines is going to be best form him will likely blow up in your face.
You are better off if you kill him with kindness. He won't be expecting that.  Rather, he probably has his head filled with scenarios of you freaking out and confronting him and his girlfriend.  Don't play to his fantasies. By keeping him off-balance tends to shift the personal power back in your direction.
Give him space by giving yourself the freedom to heal and grow. With your husband out of your life for the time being, you can begin to undergo a more positive transformation.   Right now, too much is swirling around in your life (and probably his life too, though he won't admit or show it) to try to make sense of it.
Get Connected With Your Own Life
Just getting in touch with your own emotions is strategy one.
Dedicating yourself to becoming the best version of you (without him in your life) is vitally important. Build on making the relationships that are working in your life better.
Focus on making your emotional and physical health stronger a daily activity.  If it is practical at this time, seek to gain greater independence by increasing your wealth prospects.
I have had clients use this new time to launch new businesses and careers. Wealth is more than just making more money.  It can be about exploring things you always wanted to do, but never did.  Maybe your husband was a barrier. Maybe you just were not motivated or focused.  Wealth can be the attainment of a spiritual connection with nature or religion.
An ideal future outcome would be your husband coming to learn about some of these great things you are doing in your life.  Imagine the jealousy and envy creeping in when he notices you are getting along just fine and have made some notable improvements or changes in your life.
Perhaps you lost some weight or became even more fit.  Perhaps you have thrown yourself into a few new activities.  Maybe he hears about you moving in certain social circles or learns that you have been traveling (without him) and experiencing new and exciting things.
So let's summarize what we have learned.
What might be some way you can handle a difficult situation such as your husband taking up with some new girlfriend?
Let me list out some things you could do.  Do you think you have a good handle on the things you should embrace?  And what about the behaviors you should avoid that pertain to your husband's outrageous behavior?
The Good, Bad and Ugly List of How to Deal With That Dirty Rotten Scoundrel of a Husband!
In this summary of possible actions you could take, just mentally cross out those things you think could be the wrong kind of medicine for your heartache.  Look for the good ideas and build your path forward.
Lay down the line. Tell your lying and cheating, good for nothing husband that he is never welcomed back in your life. Make sure he knows that the curtains are closed on any chance he has with you.
 Accept that while your emotional pain to the news of your husband's decision to pursue a new romance is acute, you have gained a valuable insight about your husband and how you choose to deal with the situation over the new few weeks will profoundly influence your emotional health.
Do everything within your power to break up your husband's  little romance.  The woman he has taken up with is probably a tramp and she should have known that getting mixed up with a married man was not going to turn out well for either of them.
Deep in your heart, you know your bozo of a husband is acting out on his fantasies.  He will be back and when he come crawling back asking for forgiveness, make sure he suffers just enough to ensure he never thinks of doing this kind of thing again.
Take the high road. After a few days upon learning about your husband's indiscretion, reach out to him by letter, text, or email and respectfully let him know that given all that has happened you will need take a good amount of time for yourself.  Briefly explain that you only ask that he respects your privacy and not try to see you or communicate with you.  Keep this communication short and to the point, without  a hint of recrimination or judgement.
Arrange to have a special gift package sent to your husband containing the very thing he has always wanted.  Just perhaps you can win him back by showing that you still care about him and he is top of mind.
Accept that this kind of marriage outcome is simply a bad blip on the relationship radar.  Your husband's behavior is most likely reflecting dysfunction in your marriage.  If  your husband's affair ends badly or comes to a quick end and he decides to test the waters with you again, just know that the two of you eventually will need to address the core problem.  This may require special marital coaching or relationship counseling with a 3rd party to work through the key issues.
If he treats you like a brute, then reciprocate. Enlist the help from a friend to spread false rumors about your husband at his workplace.  If he ruined your life, then by golly he has it coming to him.
Target your husband's mistress.  She is probably the one that has brought your marriage to the brink of disaster.  Let the world know all about her sneaky and underhanded behavior with a married man.
Accept that thoughts of hatred and revenge come from the dark voice that speaks to us when we are most vulnerable.  Shut out those thoughts as they only lead to more darkness and eventually bring ruin to your life and others you really care about.
So that you have it.
My top ten list of good and bad ideas of what to do if you discover your husband is bedding down with another woman.  Whoever she is, just know that ultimately she may be victimized as well.
Hence, if you embraced any numbers above other than 2, 5, 7, and 10, then you are not behaving in a manner that will serve your best interests.